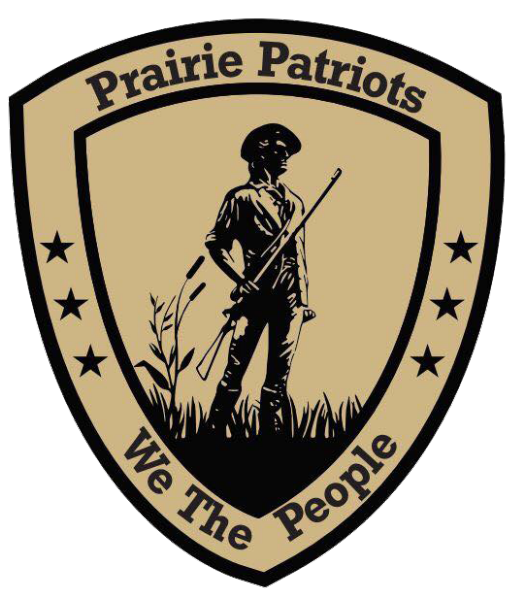 What is Prairie Patriots about?
We are a group founded on what we refer to as the 4C's principles: Constitutional, Conservative, Christian and Community. We practice our values of Cooperation, Communication, Coordination, and Collaboration.
First, we believe in supporting our local, state, and federal leaders that follow their oath to the United States Constitution, both in their statements and actions. Additionally, we believe in upholding our rights afforded to us as citizens of the United States, to include our rights to bear arms, our freedom of speech, and our freedom religion. Next, we focus on finding opportunities to support our communities, through education and providing services. Lastly, we believe in our Christian values, through serving our community as faithful followers of our religious principles.
Is Prairie Patriots a militia?
Absolutely not. We clearly define ourselves as a community public service organization. Our mission, vision, and goals of the organization unmistakably describes our beliefs as those in an educational and supportive manner, providing services to our communities in a non-violent and non-threatening manner.
Is Prairie Patriots anti government?
No. In fact, many of our members are former or current law enforcement or military service members. Our group was founded by community citizens that are focused on supporting our great law enforcement community and we are inherently supportive of pro-constitutional government. We focus our efforts in helping build our communities by supporting a structured government that follows our nation's constitution.
We value our rights, but respect the utilitarianism approach often taken by our government. We want to ensure our members are law abiding citizens, and strongly encourage our members to make good decisions in all interactions with our government to ensure that our organization and its members are positive influences in the community.
We find that many of our interactions in the community come from the partnership and collaboration of law enforcement, government, and non-government agencies, such as non-profits. We value these interactions and strive to keep this community vision always positive.
How much does membership cost?
Currently, our organization does not require its members to pay dues. We do ask our members for monetary donations to help support our organizational overhead and administrative costs, but we are aware that the economic climate and financial stability of our members is often fluid and that not all members can contribute by providing monetary donations.
We are currently beginning the process to research and apply for grants that can help us provide for the overhead costs, equipment, and training opportunities. We do not plan on utilizing grant money to subsidize volunteer compensation in the form of salary. None of our volunteers take a salary, so all contributions are strictly volunteer.
How can I contribute?
We always encourage our members to find some way to donate their experience and skill sets to the group through training opportunities. We highly encourage our members to prepare themselves and their families for emergency situations first, then focus on how they can provide assistance to their communities.
If you find that you have an expertise in a certain area, whether that be through one of the community emergency response teams or through providing administrative assistance with our leadership teams, we encourage you to join our organization.
How can we help rebuild and maintain our society?
We believe in the idea that solving the problems in our community cannot be done through using forces or threats of force. We recognize that it is not through the use of gun barrels that can change the hearts and minds, but the leadership, humility, and peaceful actions of a strong group of focused individuals.
Are you family friendly?
Our organization is founded in part through our desire to strengthen our communities. We encourage our members to involve their families in our organization. We have been humbled by the opportunities to teach our families important skills, such as safely operating weapons, prepare and preserve food, purify water, operate our communications equipment, and learning first aid procedures.